If you haven't heard, last week we wrote about 5 cool Vancouver shops that offer on-demand delivery. But Vancouver also has a ton of cool stores that you (and we) wish had on-demand delivery. From clothing to shoes, here is our list of Vancouver stores (with great online stores) that we all wish had on-demand delivery.
El Kartel is more than just a clothing store: it is a one stop culture shop. Located in the heart of Vancouver's Chinatown, El Kartel has a unique vibe you will not find at many other retail stores: DJ's, music, local art, and cool events. Oh, and there is clothing too. With hip brands like Zanerobe, Stussy, Cheap Monday, Converse, Vans, and a ton more, you can easily walk out of there looking sporty, hipster, or just plain stylin'. And if you are feeling lazy, you can shop online where their website is always sleek and up to date.
The story goes that the owners of 8th & Main wanted to open a big, awesome clothing store at the corner of 8th and Main in the heart of Mt. Pleasant, but couldn't decide on a name. The result: a big, awesome clothing store called 8th & Main. With a new location at the Southern end of the Granville St. entertainment district, 8th & Main has become a popular spot for gals and guys looking for super affordable brand name clothing and footwear. With over 55 brands on display, this is the place (and website) to buy clothes that will make you look uber hip without paying for it.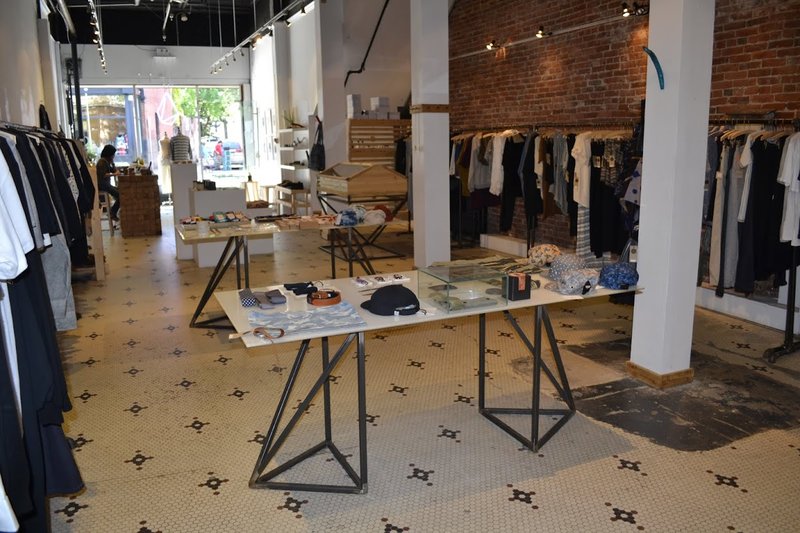 Nouvelle is French for "new;" "new" is another word for "fresh." Logically, then, NouvelleNouvelle is twice as fresh! With two locations in two of Vancouver's coolest shopping districts (Gastown and Main St.), NouvelleNouvelle offers a super eclectic assortment of products for both sexes, from clothing and shoes to stationary and candles to bags and California-made hash pipes.
No list of cool Vancouver stores would be complete without a visit to Gastown. NiftyDo is that store. Milton Hersey once said, "Give them quality. That's the best kind of advertising." And that describes the ethos of NiftyDo. It's for the smart, savvy dude, who knows it is better to buy one pair of quality jeans for $200 that will last years, than three pairs of cheap ones at $75 each that will last mere months. Clothes at NiftyDo may cost more in the short term, but will be more than worth it in the long term. And you will always look damn good.
For the ladies in the house, Jana Apparel is now in its 50th year of operation. In the sometimes vicious world of retail clothing, that is pretty much an eternity, so they must be doing something right. And what they do right is women's tops. That's right, tops only: sweaters, pullovers, blouses, jackets, coats. All made of high quality fabrics, meant to strike that tenuous balance between comfort and style. Hit up their website because that's the only way to get your hands on their sought after clothes.
You want some irony? Lord's Shoes is older than your grandparents, but last year was voted one of the top three shoe stores in Vancouver (and Vancouver has a ridiculous amount of shoe stores). That is what we call staying power. Located online and in the relatively upscale South Granville shopping district, Lord's has an exclusive selection of women's shoes from all over the world. Considering how seriously most ladies take their shoes, exclusivity and originality is pretty damn important: you won't find their shoes anywhere else.
With the temperature dropping, the fire crackling, and the rum & egg nog flowing, sometimes leaving the house to do your personal or Christmas shopping can be a chore. We are almost two decades into the 21st century, and that means point, click, deliver. On demand delivery: that's all we need. Now if only we could get these awesome stores to agree.