11 Aug

7 Best Patios in Downtown Vancouver

Despite a nickname like Rain City and its unpredictable weather, Vancouver is actually a hotbed of some pretty wicked restaurant patios. And with a four month window in which to eat al fresco in their beautiful city, residents and tourists alike flock to the patios in the Spring and Summer to enjoy some food and drink while gazing out at some spectacular views. It's not L.A. or Miami, but for a few months anyway, we can definitely pretend.

So if you are on the hunt for some prime patios, here are 7 of the best restaurant patios in downtown Vancouver.
Some patios sit on street level, amid the bustling chaos of people and cars. Others are off the street, accessed by their own private elevator, providing an oasis from the hustle and bustle below. Reflections Lounge in the Rosewood Hotel Georgia is definitely the latter. Seriously cool, chic, and sophisticated, the Reflections patio is a slice of South Beach in the heart of Vancouver. Surrounded by lush foliage, diners can enjoy brunch, lunch or dinner while seated in comfy, pillow-laden chairs and couches in their own private oasis. If you find yourself looking in the closet unable to find anything nice enough for this place, you can checkout these 5 awesome stores.

Best For: Pretending you are a movie star.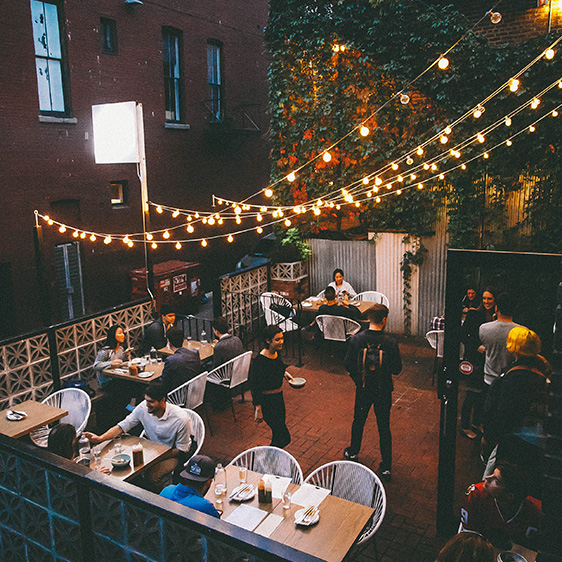 On the other end of the patio spectrum is Gastown's Tacofino. While Tacofino has already garnered massive hype for their food, drinks, and modern decor, it is their little back alley patio that must be experienced. But you will not find views of Vancouver's beautiful mountains or sparkling oceans. Instead, you will find views of people, all sorts of people. Located on the East end of the city's famed Blood Alley, the back patio at Tacofino is the perfect spot to experience the grittier side of Vancouver: lost tourists, bike thieves, stumbling drunks, heroin addicts, packs of drunk college kids. All the fun stuff.
Best For: Pretending you are in 1980's New York.
For people watching of a completely different kind, check out Edible Canada on Granville Island. While technically not downtown, it is certainly close enough, with views of both skyscrapers and the waters of False Creek. But it is the people watching that is the true view. Granville Island on a sunny day can be an absolute nuthouse. It's a combination of slow-walking tourists wandering all over the place, frustrated locals hurrying around them, impatient drivers trying to navigate it all. And you get to watch this wonderful mayhem from the comforts of Edible's sizeable patio, while sipping one of their famous Caesars or munching on some fish and chips.
Best For: Wishing you never have to get up and leave.
Just across False Creek from Granville Island, you will find Ancora. Located at the foot of Howe Street, Ancora occupies what was formerly the popular seafood restaurant, C. So while the cuisine at Ancora is less seafood and more Japanese-Peruvian fusion, the patio remains the same. And what an awesome patio it is: massive, picturesque, and with the same stunning views of False Creek, Granville Island, and a lot of boats.
Best For: Pretending you owned a boat.
Coal Harbour is one of Vancouver's most popular new neighbourhoods, with an influx of people, buildings and restaurants. One of its most popular restaurants is Lift. Literally located over the waters of Vancouver Harbour, definitely earns its reputation as one of the best patios in the city. During the day, your view will include Stanley Park, sea planes taking off and landing, boats coming and going, as well as the North Shore mountains. At night, you can catch the glittering lights of the downtown skyline, North Vancouver, and Gastown. And the seafood-centric menu makes it even better.
Best For: Wishing you were on a boat.
Long renowned as one of Vancouver's best outdoor patios, the Cactus Club in English Bay is a true Summer hot spot. The view from their expansive patio is a perfect combination of nature and people. The natural views include the ocean, beaches, mountains and all the good stuff nature has to offer. The people-watching, however, is perhaps more stunning. From beautiful sun-worshippers in bikinis and Speedos, to dazed hordes of tourists, to colourful locals, you will see it all. It's true entertainment.
Best For: Wishing you worked out more.
If there were two words to sum up Joe Fortes, it would be these: old school. For 30 years, they have been one of Vancouver's premier destinations for surf & turf, and classic cocktails and beers. Their rooftop patio is a garden-lined oasis, away from the madness of Robson Street below. Nothing too fancy here, just a large sun-filled patio, atop one of Vancouver's most iconic restaurants. Even the bar is outside, with plenty of seats to go around.
Best For: Pretending you are in San Francisco.
Hey, this is Vancouver. Time is running out to get out there and eat al fresco. Or maybe you have your own patio, and all you need is the food. That's where ParcelPal comes in. Download the ParcelPal app from the App Store and we will help make it happen.